As a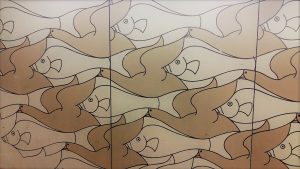 fledgling student of the European School of Design in Frankfurt, I have sharpened my eyesight and vigilance to all forms of design and graphics around me. And as I often pass in the underground passage at Huegelstrasse station the graphic decoration inspired by Sky and Water of M.C. Escher, I decided to investigate who stands behind them.
I must admit that this was not an easy task. I didn't come to any literature that would mention any artists working on a metro station projects. However, I managed to find out that the A 1 subway line, which includes the Huegelstraße stop, was opened in 1968. It was clear to me, that the decoration design had to be ready before this year.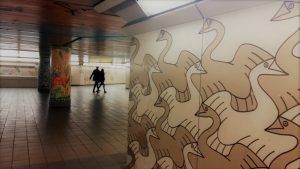 Therefore, I started to look for a graphic designers and painters who worked in Frankfurt between 1960-78. And so, after a rather strenuous selection I came across an artist in whose biography was mentioned, that one of his most important work is the graphic design for the subway in Frankfurt am Main.
This artist is the German graphic designer – Wolfgang Schmidt, who was born on 24.07.1929 in Fulda and died in March 1995 in Witzenhausen. I didn't find many traces of his work, but I know that he has left an interesting book for the designers – Worte und Bilder / Wolfgang Schmidt. Hrsg. von Anke Jaaks – (to which I'll be very eager to look very soon) and decorative graphics in the Frankfurt U-Bahn.